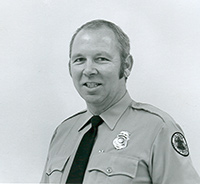 Welcome to my CDF/Cal Fire Registry History Page. My name is Jerry Glover , and this is a short Historical perspective of my time with the organization. My Training, Assignments, Calls, Incidents and Adventures that I recall as vivid memories. My co-workers and friends often called me Jerry .
My First Assignment with CDF began in : 1956. I Retired in : 1987
Assigned Work Locations :
Started as a seasonal at San Bernardino Hdqs, work as a FFTD at Highland Station during 1957 promoted to Forest Firefighter Foreman at the Potrero Station in the San Diego Unit in 1960, in 1961 I transferred to the Ramona Warehouse, in 1963 I transferred to the District Warehouse, in 1966 I transferred to the Rincon Station in the San Diego Unit, in 1968 I transferred to the Oak Glen Job Corp in 1969 I transferred to the San Bernardino Warehouse and in 1977 I transferred to the Yucca Valley Station in the San Bernardino Unit I retired in 1987
Favorite Assignments :
All of my assignments were educational and very interesting.
While at the Ramona Warehouse the Fire Camp refrigeration was blocks of ice that we would form into a Igloo, which when the ice melted would cause a mud puddle. For the annual spring training fire camp I asked about using a mobile refer truck and was told to justify it well it work because we rented a refer truck for the annual spring training  and the San Diego Unit hasn't went back to the Block Ice Igloos since
Most Interesting Calls :
One of the stand out that I recall was when I was assigned to the River Flood in 1985 by Division Chief Tim Shay he wanted me to show the San Bernardino SO how ICS worked. After Tim had outlined what he wanted me to do he asked what equipment I wanted I asked if Fire Scope still had a computer he said yes so I requested it. Turned out to be the first time that the computer was used on a incident.
My thoughts about my time with CDF and some Comments for those considering joining CDF/Cal Fire :
I enjoyed a very active an progressive career  with CDF now in retirement I am enjoying the fruits of my labor with a very comfortable retirement
A Recent Picture