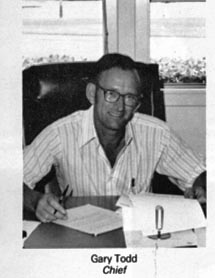 Welcome to my CDF/Cal Fire Registry History Page. My name is William Todd , and this is a short Historical perspective of my time with the organization. My Training, Assignments, Calls, Incidents and Adventures that I recall as vivid memories. My co-workers and friends often called me Gary .
My First Assignment with CDF began in : 1950. I Retired in : 1986
Assigned Work Locations :
In July of 1950, my buddy and I both got seasonal forest firefighter jobs for CDF in the San Benito Ranger Unit, assigned to what was then called the Bitterwater Forest Fire Station, (later it was called Beaver Dam). It was a rag camp. A tent house for barracks, tent house for a mess hall, a two holer for the out house (including black widows and rattlesnakes), a well and tank for water, and an oak tree for our equipment building. No radio, only a farmer's phone line for dispatch. Crew was a Foreman, a Driver and five Firefighters. Engine was a 1947 Dodge Power Wagon with a Bean Spray pump and 75 gallons of water. On July 4th, we were dispatched to a fire in San Luis Obispo RU, that CDF called the Santa Margarita Fire (USFS had a different name). The day before we were dispatched there had been five fatalities, four soldiers and a CDF Foreman. It was also the only time I ever was fired from CDF, although it only lasted two hours (another story).
Favorite Assignments :
The only other large fire of that season was the Mack. Spent three weeks on that one, including mop-up and patrol. Interesting side note, one day, when I was off-shift in fire camp, a Black Pontiac sedan drove in. Two men, who I found out were the District V Deputy State Forester Strickland and his Ass't. Alburtus, had come to get John Thurman, a Foreman from Fresno RU at that time, who had been drafted. They took him back with them. By the end of October, Halloween night, my buddy and I were the last two firefighters still working at Pinnacles Station (Bear Valley, they had already closed Bitterwater) along with a FFTD named Les Bragg. It was a dull time, so my buddy and I decided to have a little fun. The temporary barracks sat back up a small hill from what was then called the Airline Hwy, ran from Hollister to Mustang Grade, south and east of King City. Not a lot of traffic at night. Anyway, we got a pair of levis, an old tan shirt, a paper sack and stuffed it all with straw. Got a bottle of catsup from the mess. When it got dark we took it all down to the highway, laid it partly in the lane of traffic, put a hat on the head, spread catsup, and settled into a ditch. A car came by, slowed down, looked and then sped on by. The next car a little later, slowed down, and stopped. Two middle-aged ladies were in the car, and we could hear them talking. One asked the other what they should do, the other replied that there was a light on at the fire station and they should go up and report it, which they did. What happened then, Les (who knew what we were doing) told us. They drove up to the barracks, all excited, and told Les that there was a man covered with blood and lying part way in the hwy. Les said he asked how the man was dressed and when they told him levis and a tan shirt, he said "Oh, that's just a firefighter, we'll get another one tomorrow". He said they both almost fainted. (I told you it was a dull night).
During the winter-spring of 51-52 I poked around doing odd jobs while managing to get my high school diploma by going to MPC. June 1st I went back to work as a firefighter in San Benito at the Pinnicles Station. In July CDF gave a FFTD exam at the Old Alma Station, (then it was Santa Clara RU Hdqtrs, now underneath Lexington Dam). I passed the written and part of performance test with no trouble, but then came the driving test. I had to drive a Jimmy fire truck from  Alma up the hill to where the new Hwy 17 was being built, and then back down. John Wade, my Ranger Unit Chief, was my evaluator. I started out in compound gear, and stayed there. About half way up the hill, John looks at me and says "you don't know how to drive a truck at all, do you?" I admitted "not very well". John took pity and gave me a just passing score. In Sept. I was appointed a TAU driver, and you can bet I spent a lot of time practicing driving that old 1939 Dodge Fire Truck. One day we responded to a fire outside of Hollister, my first as a Driver, and I was blowing that siren all the way. We picked up the fire and returned to the station. The next morning, again the Unit Chief drives in, and takes me aside. His first words were " if you ever blow that god-damn siren around a turkey farm again I will fire you on the spot". It seems there was a turkey farm next to the hwy on the way to the fire. As I learned, domestic turkeys panic from loud noise, run into their fence, and kill themselves. John had received a blistering phone call from the rancher, who had lost 12 turkeys when I went by.
Only large fire(?), about 2,000 acres control burn escape on La Gloria Grade that year. At the end of fire season I was moved into Hollister to cover the entire county with a 1950 Dodge Crew Truck. Just me, and about a two hour drive from one end of the county to the other. Put water on foundations in those days. Got bumped out of my job in Dec. by Bob MacDonald, who had four days seniority (from Santa Clara RU) on me.
January of 1952 I was offered a permanent Driver position as relief between King City and Bradley in the Monterey RU. I took my physical from a busy doctor in King City. In those days, your eye sight without glasses had to be 20/50 or less and mine was worse than 20/100. Luckily the doctor was in a hurry so his only question was "can you see that chart down the hall". Obviously my answer was yes, or I would never have had a CDF career. I worked King City relief ( still one man, one engine, but not as much territory to cover) for a month and then was transferred to Carmel Hill- Castroville relief. In early March they gave the written test for Foreman, oral to follow. I passed the written but before I took the oral I was called to active duty by the Navy. I took a military leave of absence and was gone for two years. When I returned, I was assigned to Santa Cruz RU, as relief driver between Corrolitos-Soquel stations, but also got to take a deferred foreman oral, passed, and received back seniority as a foreman to the 1952 date I left.
Not much action in 54, biggest fire was the Devil Fire, started on the Los Padres and burned on to the State in Monterey RU. Spent about a week working inmates. Worked fall and spring helping build Soquel Station. Had first daughter in April of 55. Decided I could't really be a father, working 24hours a day, 5 or more days a week so in June I resigned and went to work driving truck at night and going to college in the day time. Really missed fire, graduated four years to the day from when I resigned, and returned to Region V as a Forestry Grad Trainee. Busy summer on fires, larger ones for me in Monterey, San Benito, and Napa RU's. In Nov. Earl Wren, ASFR of the Alma District of Santa Clara RU, retired and I was appointed acting. Fire season in V that year, lasted until two days before Christmas. I was on the Asst. Forest Technician list, but not on the ASFR as no exam had been given. I was appointed an Ass't. Tech at Ben Lomond Nursery in Jan. 1960. Enjoyed the work, but no fire. Got to go to the Wefferling Fire in SLO RU in, I believe, 1962 but that was all. In 1963, Tobe Arvola , Dep. St. Forester in charge of Resource Management in Sacto issued a no more fire duty for nursery manager policy, as the seedlings might die. I had been promoted to full Forest Tech. but couldn't handle the idea of no fire duty. I was on the ASFR list at that time so I went to Monterey to see Emory Sloat, Deputy for V. Explained the situation to him, and requested to demote to ASFR. He suggested I wait a couple of months and take the Assoc. Rgr. exam, which I did. I was demoted to Assoc. in Dec. of 63, and assigned to the Napa RU. Fran Gowell, one of the nicest, and most honest people I ever met, was the Unit Ranger. He had an extremely serious case of cataracts in both eyes and his vision was limited. He allowed me to handle the operations of the Unit, while he provided me with council and advice. The following six years were the happiest of my career. In Sept. of 1964 and 1965, the North Coast had extreme north winds, and the events continued for at least seven days each. 64 in Napa we had the Sites Fire, the fire on the Blue Ridge, Conn Dam Fire, the Stornetta Fire, the Mt. George Fire and the Hanley Fire, all in the same  period, while there were numerous other large fire burning in Region I. The Hanley burned from the top of Mt. St. Helena to the Santa Rosa City Limits. Don't remember all the names of the fires in 1965 but at the height of the period, there were over five fires in excess of 5,000 acres each in the Napa Unit alone. Due to lack of manpower and equipment, had to let one burn for three days before we could put anything on it. In addition, during the fire seasons of 64, 65, and half of 66, we had a serial wildland arsonist working.
Most Interesting Calls :
In 1966,1 believe, Fran Gowell retired and I became the SFR I. During the years until 1970, classifications changed and I was promoted to SFR II, and then SFR III, all in the Napa Unit. Everything was fine until 70, when ranger unit consolidations began. Napa was consolidated with Lake and I became a SFR IV. Suddenly I had four SFR Ms, and a Ranger Unit too large to manage effectively. I became a political figurehead and basically I only knew what was going on in the Unit by what the Ms told me. In 1973 Mike Brock, Ranger in NYP retired and I put in for the position, hoping to get it, and to finish my career there. Larry Richey, then Chief Deputy, called me into Sacto, and told me I could have NYP for five years and then he would transfer me to the San Diego Unit, or I could go to Monterey as an Ass't. Deputy until Chuck Fairbanks, then Deputy in Redding, retired, and then I could go to Redding. No choice, I went to Monterey in 73 and then to Redding in 75. In the early 80's, CDF became a Department with Lou Moran as Director and Richey as Chief Deputy. Everything was fine for a year or two, and then Lou retired, and the Director's became political appointees, people with no real knowledge of the Dept.'s mission, and history, and no   knowledge of how to manage the second largest fire department in the State. Slowly the chain of command died, the principles of management fell by the wayside, and decision by committee took over, not to mention that DPA, with no responsibility for our mission, had the authority to make major decisions about our employees and their rights, duty weeks, etc.
My thoughts about my time with CDF and some Comments for those considering joining CDF/Cal Fire :
I had wonderful people to work with, and they all performed far above the normal level of expected performance. In those days, Napa RU had a SFR 1, an Assoc. SFR, 3 Ass't. SFR plus a Sch. A ASFR, 6 stations, nine engines, two dozers, and a foreman and ASFR in dispatch, also one Clerical. I don't remember the number of times I watched Dave Wall and Al Campbell handle 6 working fires and new starts, mostly due to our arsonist. Frank Holbrook, with help from many others, finally caught him. He was sentenced to nine years in state prison.
In late 1985 I experienced a serious operation, with complications, and was on sick leave for about three months. I never fully recovered and in Oct. 1986,1 retired.
There are many more stories to tell, some funny, some a little history, and some that should never be told, but I am old and tired so I will stop here.