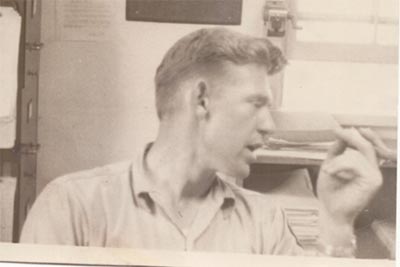 Welcome to my CDF/Cal Fire Registry History Page. My name is William Harrington , and this is a short Historical perspective of my time with the organization. My Training, Assignments, Calls, Incidents and Adventures that I recall as vivid memories. My co-workers and friends often called me Bill .
My First Assignment with CDF began in : 1957. I Retired in : 1997
Assigned Work Locations :
I started as a TAU Fire Truck Driver in 1957 since I was not on any list. That fall I got on both the Driver and Foreman list and became probation Driver, The next spring I was promoted to Foreman at the headquarters station In Oroville, took a year off to finish my college degree and then reinstated to Truck Driver at Oroville.
I promoted to Foreman dispatcher at DO II office in Redding on July 1960. Next was a year as a Field Trainee and then to Forester I in the engineering section doing right-a-way work for the District. In 1965 I was promoted to Forester II in charge of the range management program.
In 1969 I transferred to Sacramento headquarters as an SFR II and placed in charge of the Divisions Equipment budget.
In 1973 I became the federal agencies fire coordination person. I was promoted to SFR III and became the Education and Information Officer in the Prevention Program. In 1975 I transferred to RO I as Region Fire Control Officer in Santa Rosa.
In 1977 I went to Fortuna as Ranger Unit Chief and became very acquainted with our oversight of the timber industry harvesting practices which included a staff of 14 Foresters. In 1982 I returned to Santa Rosa as the Assistant Regional Chief under the infamous Dick Ernest.
In 1989 I was transferred to Chief of Sonoma RU, and in 1992 I went to my final assignment in Sacramento as Chief of Fire Control Operations, a CEA
II classification.
Favorite Assignments :
I grew up in Oroville California, first on a cattle ranch in a little community called Hurleton where our ranch was located and then moved to town at age 7. I went through grammar and high school in Oroville, completing high school in 1950.
While waiting at Butte CDF headquarters for a high school friend who was a seasonal dispatcher to get off work, the office manager asked what I had been doing.   I explained that I had been driving truck for several different people but was looking for something else at the time. He asked if I would be interested in working for CDF? I said perhaps but I had no knowledge of fire fighting. He gave me a test ride in a Reo tanker and said since I drove great, I could start work with CDF on Monday as a TAU Fire Truck Driver. 1 said sure and retired 39 years later.
 After getting all signed up I was introduced to the station Foreman that I would be working for to get the necessary things I would need, which consisted of an aluminum hard hat and a list of clothing I would have to buy.  He spent all of an hour showing me the crew truck and how things worked, and how to use the radio. Well I felt totally lacking on a bunch of things such as how and what I was supposed to do when I got to a fire.  The truck was easy, the rest totally foreign.  I picked out one of the firefighters that seemed most knowledgeable and we spent quit a bit of time going over all of my questions and the procedures.  He was a life saver.
Most Interesting Calls :
 The only thing I remember about the first fire, which was two days after I started, was using the radio.  Arriving at the fire, I made the mistake of asking the dispatcher what I should do.  I got a immediate and rather caustic response, " fight the fire", So we did. 
My how things have changed.
My thoughts about my time with CDF and some Comments for those considering joining CDF/Cal Fire :
  It made me more accountable, decisive, responsive, and cognitive of the issues that are a part of this great State, particularly as they apply to the world of wildland Fire Protection.  Favorite stories,  and there are too many to try and relate, but most are good.
 People I worked with, and there are far too many to try and tell about. The strength and pride of this organization rests with the people that make up this great outfit, top to bottom.
    
I was married and had children from the first day I went to work with CDF and this can and did take a toll at times over the years. They were supportive and proud of what I did but it was difficult for my children to accept the life changing disruption of moving as often as we did.
       
    I retired in January of 1997 at 2 weeks shy of age 65. Reason; frustration with some budgeting issue relative to the OV 10 cost overrun. It started too early in the budget fiscal year and I had fought the same battles previously. In hind-sight and with a clear mind I came to regret retiring at that time.
I missed the people in the programs I administered and the breadth of issues that needed to be completed. That is why it is so wrong to retire the way I did, more or less on the spur of the moment with job frustration.
To be honest I have been gone some 17 years and the landscape has changed so much from my time that any advice I might offer would probably not fit in today's world. But years back when I was going to decline to take a promotional test because I felt my experience was not where I would like it to be, a wise old ranger told me to take the test if you qualify and let program administrators decide if you should be on the list. Unlike some employees over the past that have declined to take a promotional test because it could cause a reduction in take home pay, I would say, step up to the plate and give it your best shot. We need good employees in the administrative ranks and you have to take a longer look at your career.
A Recent Picture